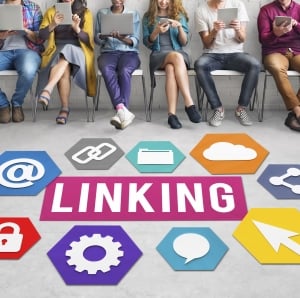 Where did the time go?
2017 is almost here, and it has some surprises in store for SEO. 2016 marked the latest Penguin update and reaffirmed the importance of building quality backlinks to your website. (Emphasis on the word "quality.")
So what do you need and don't need to build top notch backlinks?
Let's explore the latest and greatest from Google and learn what you need to prioritize in 2017!
How Google Evaluates Your Website
To understand where backlinks are headed in 2017, it's important to understand the ranking factors Google uses to evaluate your website.
Believe it or not, there are 200 different ranking factors! Instead of listing all 200, here are the top seven ranking factors most crucial to link building, according to a recent survey of leading SEO experts:
Trust level and domain authority  – 24%
Number of incoming backlinks, also known as link popularity – 22%
Anchor Text – 20%
SEO Keywords – 15%
Registration and Web Hosting – 7%
Incoming traffic and click-through rate – 6%
Social Media – 5%
As you can see, quality backlinks are the second most important ranking factor. Furthermore, important ranking factors such as trust level, anchor texts, and social media play a significant role in link building as well.
In order to maintain the integrity of their search results, Google periodically updates their algorithms to catch and weed out the bad apples. In doing so, it's now a lot easier to get penalized if you're not careful.
Google's most recent algorithm update, Penguin 4.0, is particularly relevant to this conversation because it deals specifically with links.
Why Google Penguin is Important
No doubt, Google Penguin will have significant influence over backlink strategies come 2017. This particular update specifically targets low-quality backlinks. If you haven't already, make sure to perform an SEO audit to remove or "no-follow" any questionable backlinks.
In short, Google Penguin will flag and penalize the following link building issues:
Building low-quality backlinks from websites irrelevant to your niche. Building a low-quality backlink profile too fast may be seen as manipulating search results.
Like Google's Panda update, Penguin will also penalize you for keyword stuffing your content.
Optimizing your content with too much anchor text. Anchor text is a major ranking factor, but you want to include them in the most relevant way possible.
Using too many exact match anchor texts. Exact match anchor text used to be standard SEO practice. Not anymore! This now raises major flags.
Unnatural backlinks are also flagged and penalized. These are websites that google deems as "manipulating search results."
So what backlink trends will you expect to see in 2017?
Diversify Your Quality Backlinks
Backlink diversity will be key in 2017.
With the Penguin 4.0 release, link practices are under more scrutiny. If the majority of your backlinks are coming from the same source, Penguin may flag and ultimately penalize you.
When building your backlink profile, consider a wide variety of the following sources:
High-authority blogs
Relevant .org websites
Editorial websites
Social media pages
Popular video sites like YouTube
Relevant websites with .edu and .gov extensions
Online guides
Whitepapers
Penguin may also penalize you if the majority of your backlinks come from the same "c-class" ISP address. Having too many may be viewed as spam.
Assess The Page and Domain Authority of Your Links
Knowing where your backlinks are coming from is crucial for staying penguin-friendly. That's why when building your profile, you need to extensively research the backlinks you want to pursue.
In the old SEO days, Google's PageRank was used to measure the authority of websites. However, since Google retired PageRank, other tools have risen to take its place.
One of the most popular methods for assessing websites is domain authority and page authority, otherwise known as your PA and DA scores.
PA and DA scores use a 0-100 ranking system. Therefore, the better the score, the more authority that site has with google. For example, Facebook has a score of 100 because it's such a mega-popular network. When building your backlinks, try to aim for websites with reasonable scores of 30 and above.
2017 Is All About Intent
Forget the old ways of SEO. It's no longer cool to target keywords and backlinks that have nothing to do with your niche. Remember, links and anchor text are supposed to help visitors engage more with the topic, not detour them completely.
For example, suppose you run a pet niche website. You find that a tire review website is linking to your article, "Top 7 Tips For Making Your Own Dog Food", in their blog post on Luxury Car Rims. That backlink has nothing to do with the intent of the blog post, and in turn, that backlink could get flagged.
So what do you do in situations like this?
If the tire review website didn't add a "no-follow" tag to your backlink, reach out directly to the website to remove it. You should also run a detailed SEO audit to identify troubling backlinks that need to be removed and work with your SEO consultant to purchase only relevant quality backlinks.
Build Contextual Quality Backlinks
You've probably heard the phrase, "content is king", but this philosophy also extends right into your link building methods. Moving forward into 2017, backlinks within content will have more value than stand-alone links and those listed on sidebars. These are called contextual backlinks.
Remember, it's all about intent!
When building your backlinks, make sure to focus on websites that produce substantial, well-formatted articles and blog posts. You also need to analyze how backlinks are used.
Ask yourself this:
Do their backlinks match the intent of the content?
Do they direct visitors to relevant, useful web pages?
One way to find quality backlinks is to perform backlink research on your competitors and the backlink websites you're considering.
You can't take any chances with Google in 2017, and the last thing you want is to waste time getting rid of bad backlinks.
To start the year off strong, receive an SEO audit to see where your backlinks stand, do away with outdated SEO practices, and speak with an SEO consultant to make sure you're building quality backlinks the right way.