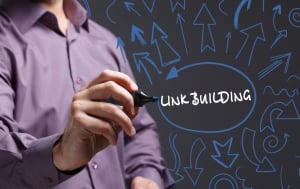 Since Google's creation, link building tools have consistently remained one of the best strategies for increasing your website's SEO potential.
The early days of Google marked link spamming and other techniques focused on buying backlinks from low-quality link providers.
This eventually evolved into what we know today as "Blackhat SEO," and subsequently, earned us SEO'ers a firm slap on the wrist from Google. Who knew that Google wanted readable content for their users?
Since then, Google has waged war against SEO'ers using low-quality links to increase their search ranking. In September of this year, Google won that war.
Google's latest Penguin update, Penguin 4.0, monitors linking in real-time, ensuring that any and all low-quality links no longer increase SEO.
SEOs in 2017 must move forward and stick with linking practices that cater to Google's new algorithm. Luckily, plenty of linking practices exist that Google won't penalize, and some they even encourage.
We're looking at the best linking practices for 2017 and how to capitalize on them.
Link Building Tools
Infographics
It is probably beaten into your brain that content is king, and it's true. Google values content that informs readers and focuses on more than just SEO potential.
In a survey of SEO leaders, Omar Kattan mused that the future of SEO lies not in technical signals, but in social signals that require brands to produce relevant, entertaining, useful, inspiring content.
However, have you stopped to ask yourself what kind of content is actually worth creating? Blog posts are essential to SEO, but it's infographics that stand out.
Start by identifying a niche where your potential infographic is relevant. Next, identify the information your niche is looking for. This is easily accomplished by studying keyword trends.
Build your infographic and promote it heavily on social media websites. You can also send out "feelers" to other blogs within your niche who may trade a backlink for infographic use rights.
Though social media links aren't authoritative, they signal popularity to authoritative websites who might link to your infographic.
The chances of creating a viral infographic are slim, but the rewards are tremendous.
Guest Posts
Guest posts emerged long ago as a great set of link building tools to generate high-quality backlinks, and it remains so in 2017. The reasons guest posting is so effective is simple.
You're creating an article for another website tailored to increase your own SEO link juice. Handcrafted backlinks will always fare better than those from outside your organization.
But, in 2017, we're taking guest posting to the next level.
Focus on pitching your guest posts to what we call "content syndicators." These are websites that work with networks of other blogs to post their content across multiple pages.
For example, The Huffington Post is part of a syndication network. They repost content from other blogs on their website. If website ABC is trending within their niche, Huff Post will republish their content.
Your goal is to guest post on member blogs of these syndication networks. Not only do you gain a backlink from your guest post, but also the opportunity for exposure to a mass market audience.
This is harder than it sounds. Search Huff Post, Mashable, and other similar blogs for posts related to your niche. Then, look for a "this post originally appeared on" credit.
Your goal is to guest post on the credited websites.
Once you've identified your targets, pitch ideas that are niche-specific. Your target is mass appeal, but the authoritative websites want niche articles.
Don't stop guest posting, but also keep an eye out for syndication opportunities.
Outreach Efforts
Part of building backlinks is convincing other blog owners that your content is quality. Some people may organically find your content, but it's likely many of your backlinks will come from building a repertoire with other content creators.
Sounds easy, right? Not quite, because you're not the only one trying to win over editors and snag a backlink.
Standing out in an inbox full of emails is no easy feat. The best way to differentiate yourself is through personalized emails. Nothing says "delete this" like a template email.
After you've managed to convince a few people to work with your linking practices, you'll need to build a relationship with them. The nature of the relationship will depend on your linking strategies.
Trading guest content is a great way to build backlinks in a friendly way. Ditto for giving away free backlinks planted within each other's work.
If your strategy involves buying backlinks, things get somewhat more complicated. The thing is, Google isn't too keen on buying and selling links. But, that doesn't mean there aren't ways to trick the search giant.
Business relationships with link buying or selling clients involve staying within your niche and agreeing on the specifics of anchor text and link volume. Less friendship, and more caution, tends to stem from these relationships.
Wrapping Up
There's no doubt in our mind that link building tools will remain an important part of SEO strategy in 2017. The SEO potential of building a quality network of backlinks is far too great to ignore.
Keep Penguin in mind, churn out those infographics, become friendly with other bloggers, and start searching for quality syndicated content networks. Stick to these trends and your SEO in 2017 should be off to a fantastic start.
We hope that with our guide, you'll move into 2017 with all the tools you need to take your SEO to the next level.
If you're interested in learning more about building a high-quality link profile, get in contact with us. We offer opportunities for both buying and selling high-quality backlinks to boost your website's SEO potential.