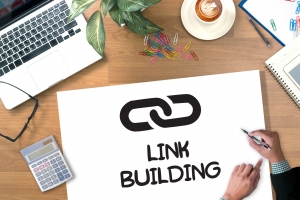 Now that Penguin 4 has rolled out, are you struggling to understand where to focus your efforts to keep your website high on the Google rankings?
Link building is still extremely important to your website's SEO rankings. Inbound links act as indicators to Google as to whether to consider your website an authority in your niche.
Links make your website visible in search results, but you'll have to put in some effort to be high in the rankings.
Blogging consistently helps in getting quality links. In fact, businesses with a consistent blogging habit get up to 97 percent more inbound links. But to avoid being penalized by Google, it's important to understand how to build quality links.
With Google's extra emphasis on link building, this SEO technique may require more time, effort and money on your end. In this post, we'll show you a few link building tools that will keep you penalty-free in Google. Read on to learn how to build links in a post-Penguin world.
What the Penguin Update Means for Link Building
It has always been that Google saw sites as more authoritative when they had more links pointing back to their site. Google would place those sites with more links higher up in the rankings.
It used to be that it didn't matter the quality of where the link came from. More links meant better search rankings.
Since the first Penguin update in 2012, Google has been penalizing websites for containing suspicious links. When a website is hit by Penguin, it can be difficult to recover. You may lose your high ranking and your traffic.
In Google's most recent Penguin update, released this fall, it was announced that the spam-detecting tool now runs in real time. While this makes it easier to get hit, it also makes the recovery process easier.
Good links are still considered one of the best ways to build authority for your site.
Link Building Tools to Play it Safe
If you're not sure where to start when building quality links, trying the following techniques:
1. Organic link building
The link building tools you use depend on the type of business you have.
B2C businesses can build links by getting product reviews. To do this, send influencers in your niche a free sample and ask them to give you a product review. Ask them if they'd like to help promote your product and offer a commission of the sales they get you.
Another way to do this is to write heavily visual blog posts and post the images to social media sites like Pinterest or Instagram. Pinterest users pin 3,472 images per minute. Posting to these sites is a sure way to get your content shared and gain plenty of links back to your site.
Posting to these sites is a sure way to get your content shared and gain plenty of links back to your site.
2. Connect with local associations
Another great practice is to reach out to local directories or associations. Partner with organizations that will provide links back to your website. Alumni directories can be seen as highly authoritative with relevant links to websites.
If your business has recently made a big accomplishment, achieved a milestone or held a charity fundraiser, this is a good time to reach out to alumni associations because they often promote success stories. When industry specific directories link back to you, this indicates to Google that you are seen as a relevant source to local searchers.
When reaching out to associations or influencers, remember to create lasting relationships and understand that it is a two-way street. You have to provide value back to those who are helping you out. Be genuine in your approach and demonstrate that you're bringing unique value to who you're reaching out to.
Personalizing your approach goes a long way. Show that you can be trusted and that you are not a spammer.
3. B2B link building
B2B customers have plenty of options for building authoritative links.
One great way to get quality links back to your site is to write testimonials for the people you network with. For those who helped you with your business cards or website design, write them a testimonial of how pleased you are with their services. Many times, they will post your testimonial on their own website and link back to you.
Another option is to write a guest blog post for another website in your niche. Writing an information-packed article for other sites is a great way to gain authority in your niche and get links back to your site. Several sites will accept guest blog posts from experts in their niche.
4. Content-led link building
A natural way to build quality links is to provide quality content. Always aim to relate to your target audience. Tug at their emotions or education them with an informational post.
Share useful tools and infographics. Post video demonstrations of how to perform a task. Write engaging editorials.
Of course, you still have to get out there and ask for the links to your site. But the more quality content you have, the more likely people will want to link to your site.
5. Reclaim broken links
If you've done all of the above and your rankings still haven't recovered in Google, it's time to locate the website links to your site that are broken. Inform the owners of those sites that they have a broken link, which is also bad for their own SEO. Provide a new URL for them to replace the broken link with.
Again, it is important to be genuine in your approach and provide value for the site owner.
Recovering from a Penguin hit can be difficult for busy business owners. The techniques mentioned here are simple ways to build quality links, but you still may struggle to focus on this when you know you should be focusing on your clients and your services.
If that's the case, let us help you. Having been in this business for a long time, we have watched link strategies change with every algorithm update. We are skilled at adapting quickly to these changes. We know the best ways to get your website back to the top.
Contact us today with your questions about link building tools!